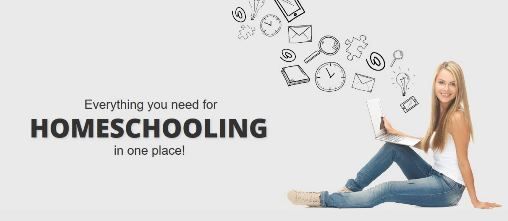 Please note that this post contains affiliate links. If you decide to purchase this product utilizing one of these links, I might receive credit/compensation for the referral. According to FTC guidelines, I am disclosing this information.
Today, we are pleased to share with you our honest, unbiased review of the
Yearly Membership
offered by
SchoolhouseTeachers.com
, which we received a free membership to for review purposes. My son and I look forward to telling you about our favorite parts of this all-in-one, online curriculum source. Furthermore, we will also be showing you a behind the scenes peek at this homeschool tool in action. In addition, we will provide a link at the bottom of this review that will lead you to a discount of this product but please hurry if you are interested in purchasing a Yearly Membership from SchoolhouseTeachers.com because this deal runs out on January 15th and the price will be increasing.

About SchoolhouseTeachers.com
SchoolhouseTeachers.com was recently restructured to offer improved classes and tools that make it an even more amazing resource for homeschooling families! Not only is it well organized by grade level as well as subject, it provides lesson plans and materials at the click of your computer keyboard. While some classes utilize videos included right in the curriculum, others provide worksheets, and still others utilize links to outside resources and books. The over 250 classes offered with the Yearly Membership range in intensity and length and can be easily adjusted to meet your child's needs. Applecore, which comes with your Yearly Membership, is a great planning tool that allows you to create a schedule for each student as well as maintain records on classes and grades.
Besides their wide array of classes for preschool through 12th grade, the site also provides articles and tools for homeschool parents as well. One such feature for busy moms is a daily menu previewing a new recipe each day. While you are diligently working through lessons with your child, the slow cooker can be cooking the new recipe for Shepherd's Pie (from January 13th) which is an easy meal to prepare and sounds delicious. I certainly can't wait to try it!
Guided Direction and Tools to Make Homeschooling Easy
Our Personal Experience with SchoolhouseTeachers.com
As part of our high school experience, we have chosen to study American History this year. SchoolhouseTeachers offers several interesting choices in this venue. We chose to utilize Drive Thru History: American History as we are familiar with this series and it best suits my son's learning style. Today, we learned about Boston and the start of the American Revolution for freedom. My son enjoys this series because it makes history come to life in a fun, visual way. He feels like he actually steps back into time with host Dave Stotts. It is almost like a virtual field trip that is jam packed with educational information.
We've also been utilizing the World Book eBook Library, which comes with the Yearly Membership to SchoolhouseTeachers, to supplement our American History lessons with a study on Native Americans. The various books available about Native Americans through the World Book Library provide a detailed look at each groups unique lifestyle, religious beliefs, housing, food sources, artifacts, interaction with settlers, and other items pertinent to their culture as each group was different.
For Language Arts, we have been using the Daily Grammar and Schoolhouse Spelling courses to reinforce and build upon language and writing skills. Daily Grammar provides printable worksheets that ask students to provide proper punctuation, find parts of speech, and identify parts of the sentence. Since my son has nicknamed me the "Grammar Queen," you can deduce that I'm pleased to have access to extra grammar practice. Schoolhouse Spelling not only provides a list of words for each week but also printable activities: word scrambles, crossword puzzles, and word finds that help reinforce the spelling and comprehension of the word meanings. We are looking forward to trying the course on American Folklore to help build reading comprehension and literary skills.
Special Needs Students:
SchoolhouseTeachers has an entire section dedicated to special needs students. One of the tools in this section is an article series detailing the various types of learning styles and how to identify your child's learning style. The articles then focus upon the learning styles, your child's strengths and how to optimize on those strengths to help your child succeed as well as various techniques and tips on how to help them overcome their weaknesses. There are other series of articles that discuss dyslexia, language delays, and other learning disabilities which I appreciate as the mother of a child with diagnoses of dyscalculia, a math learning disability, and dysgraphia, a writing learning disability. Understanding is the first step in helping your child succeed. Furthermore, there is an article series entitled Homeschooling through the Rough Spots, written by the mother of a child with diagnoses of Autism and Tourette's. As the mother of a child with a diagnosis of Aspergers or high-functioning Autism, I have experienced a few "rough spots" as well. This series of articles helps remind me as a homeschool parent that I'm not alone in this journey, which brings comfort during those rough spots.
Our High School Dashboard - Learning at the Click of Our Fingertips
High School Students:
SchoolhouseTeachers has an entire section of High School tools including transcript and GPA forms to make record keeping much easier. In addition, each course on the SchoolhouseTeachers site suggests an academic "weight" for the transcript. Please note that each state varies in the required academic standards. SchoolhouseTeachers also provides a series of college prep articles to help students and parents be prepared for the transition to college. Transitioning to High School can be overwhelming for the student and parent. Documentation is essential. Having these tools and forms accessible as well as a guideline for the weight each course should have, relieves some of the pressure of homeschooling and allows parents to focus on the learning rather than the paperwork. To further help students prepare for college, a career-exploration class is offered as an elective. This class looks at the decision making process, an inventory of talents and interests, personality tests, career possibilities, collecting facts and data, and interviewing and job shadowing. This is beneficial for students who are undecided about their future or who have unrealistic goals for their future as it allows them to see where their strengths are and to see exactly what their "dream" job truly entails.
My Son's Favorites:
For a boy who at times appears to be "allergic" to school, my son enjoys the various video series the most. He not only enjoys the zaniness of Drive Thru History host Dave Stotts but also the retelling of his America's history and the stories of the people who made her into the nation she has become. As part of our biology lessons, we watched a video today on Lions. He enjoyed watching these powerful beasts move and comparing it to the way our kittens interact. He is also very excited about the Drama electives. He has learned that acting is one way he can express himself.
My Favorites:
When you have a child with diagnoses of ADHD and Aspergers, you quickly learn that interruptions are a common part of the school day. He has to ask his questions when they come to mind so that he doesn't forget them. Using the online videos allows me to pause the lesson so that questions can be answered or main points can be addressed. Videos can also be reviewed if your child is having difficulty grasping a concept. I like the numerous planning and record keeping tools that help first year high school parents, like me, have a guideline for what my child's records should look like. The adaptability of the various classes and lesson plans is essential as well. Because of learning disabilities in some classes and acceleration in others, my child may need some additional practice on a topic. When teaching American Folklore, I can utilize the lessons from SchoolhouseTeachers but have my child create a project on a specific American Folklore from our lesson rather than have him write his own Folklore since writing is a challenge for him.
Discount:
If you are a homeschooling family or are contemplating homeschool in the future, I encourage you to take a look at what
SchoolhouseTeachers.com
has to offer. If you are interested in a
Yearly Membership
, make sure you place your purchase by January 15th to take advantage of the savings. To get the discount, type the code:
CHRISTMAS
in at checkout.
Reviewed for The Old Schoolhouse Homeschool
Review Crew