WordVessel (a blog written by Cathy Bryant): Interview with Mary E. DeMuth
If You enjoy this interview check out Cathy's blog at: http://wordvessel.blogspot.com
WordVessel is pleased and proud to welcome author Mary DeMuth. Here's her bio: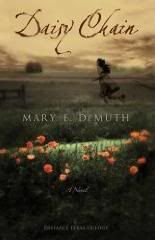 Mary DeMuth is an expert in the field of Pioneer Parenting. She helps Christian parents plow fresh spiritual ground, especially those seeking to break destructive family patterns. Her message guides parents who don't want to duplicate the home where they were raised or didn't have positive parenting role models growing up.An accomplished writer, Mary's parenting books include
Authentic Parenting in a Postmodern Culture
,
Building the Christian Family You Never Had
, and
Ordinary Mom, Extraordinary God
. Her real-to-life novels inspire people to turn trials into triumphs:
Watching the Tree Limbs
(2007 Christy Award finalist, ACFW Book of the Year 2nd Place) and
Wishing on Dandelions
(2007 Retailer's Choice Award finalist).Mary is a frequent speaker at women's retreats and parenting seminars, addressing audiences in both Europe and the United States. National media regularly seek Mary's candid ability to connect with their listeners. Her radio appearances include FamilyLife Today, Moody Midday Connection, and U.S.A. Radio network. She also has articles published in Marriage Partnership, In Touch, and HomeLife.As pioneer parents, Mary and her husband Patrick live in Texas with their three children. They recently returned from breaking new spiritual ground in Southern France where they planted a church.Hi, Mary! Tell us a little bit about your background and your family.You can read my testimony on my website (
http://www.marydemuth.com/
). I came from a difficult upbringing, but Jesus saw fit to find me at fifteen. He has utterly changed my life.I've been married 18 years to my husband Patrick (who's been told he looks like George Clooney on more than one occasion). Interesting side note: I've been told I look like Laura Dern, and we share the EXACT same birthday. Twins separated at birth? Possibly. If you're reading this and you're chums with Laura, could you probe a bit?George (er, Patrick) and I have three kids: Sophie, Aidan and Julia. Sophie's learning to drive—and what's interesting is that I'm not worried about it. She's a careful driver. My son Aidan is thirteen. He's passionate about finding water for a small village in Ghana. We got to go on the trip of a lifetime to meet the village of Sankpem last summer. Our daughter Julia is ten and is deeply kindhearted, beautiful inside and out. We also have an overly needy (farting) dog and a fat & fuzzy (sometimes cranky) cat.What do you like to do in your spare time? Hobbies?I love to cook and garden and sew and decorate and take pictures. I'm really quite a homebody. I also keep in shape by training for small triathlons, emphasis on small.What has God been teaching you lately?To learn how to embrace subtlety. I'm a loud, in your face, writer. I'm learning to create nuance. This, of course, translates into my everyday life too.Alas, the other thing is pretty convoluted and deep, but it has to do with learning to trust God's love for me, even if some people in my life act in enemy-like ways. (I'm sure none of you have ever struggled with this.) In other words, what do you do when some voices say unkind and untrue things? Used to be I took those words like morsels into my heart and chewed on them until the poison saturated me. Now I'm learning to weigh the words briefly, then place them in Jesus' hands. It's a discipline to do that. The tricky part comes when I act as my enemy, hurling insults at myself. It's all about giving every word to Jesus and choosing to believe His words about me. I am dearly loved. Wow.When you were a child, what did you want to be when you grew up?This may sound strange, but I wanted to be a doctor. But even then, the writer in me came out because I liked the cadence of my maiden name with the title doctor. Mary Walker, Medical Doctor.Where are you headed next?I hope I see that I get to continue this writing dream—writing for the sheer joy of it, and also receiving compensation (a nice writerly dream!). I also pray that if things take off, I'll keep my head on straight and constantly strive to point to the truly Famous One, Jesus.I sense that more public speaking is in the future as well.How did you get involved in writing?I've been writing since college when the bug hit me. I wrote my first short story about a missionary going to Russia (when it was firmly encased behind the iron curtain) and having to do all these clandestine things to share the gospel. I'm embarrassed to write this, but the piece started with these four words: Thump, thump, thump, thump (representing the protagonist's heartbeat, of course).I've been actively writing since 1992 when my daughter Sophie was born. I created a newsletter that helped moms manage their homes. I bought my first computer from the proceeds. I also designed and edited church newsletters, wrote homeschooling curriculum, and even wrote a script for an ultrasound training video. Soon after, short stories started flying out of me. When we moved from East Texas to Dallas for my husband to go to Dallas Seminary, I decided to get serious. I met my friend Sandra Glahn then, a professor at the seminary and a published writer. She shepherded me through the query-letter-writing process and has been an incredible cheerleader.In 2002, I wrote my first novel. In 2003, I signed with an agent, then signed two nonfiction books. Since then, I've had five books published (those included), Daisy Chain being my sixth book. The first novel I wrote is yet to be published.How do you find time to write?I make time to write. I give myself word count goals every day. While my children are at school, I work full time. Lately I've been writing and promoting like a crazy woman, pulling 10-12 hour shifts. Even so, it's a priority for me to have a sit-down dinner with my family every night. It helps that I love to cook.What do you enjoy most about the writing process?I love the initial flurry of words on the page where I'm uninhibited. I love fleshing out a story as it comes to me. I see my novels on the movie screen of my mind, which may account for the visual nature of my narratives.What was the most difficult aspect of the writing process?I am not in love with rejection.I also don't cherish rewriting. But it's a necessary and important evil.What would you say to someone who wants to become a published author?Here's the analogy you need to memorize and internalize: Beginning the publishing journey is like wearing a sweatshirt and toting a sack lunch at the base of Mount Everest, thinking, Hmm, this should be a breeze!In addition: know you are called. Know you have talent. Know you're full of tenacity. All three things will help you succeed along the journey.Another idea is hang out at The Writing Spa and its corresponding blog WannabePublished. I tackle nearly every question a new writer would have. I offer weekly free critiques and I have guest authors cameo there. I evaluate the saleabilty of a book idea. Hop on by at
http://www.thewritingspa.com/
.Where did you get the idea for "Daisy Chain"?I had a friend who shared a difficult story with me. He grew up in a Christian home. His father was in leadership in the Christian community. From the outside, all looked perfect. But behind closed doors, life was very, very hard. I wanted to expose that kind of abuse. That's why the idea of family secrets plays heavily into all three books of the Defiance, Texas trilogy.What are the major themes of the book?The importance (and elusiveness) of authenticity.The devastation of maintaining and keeping family secrets.Redemption comes from surprising people.Feeling guilty doesn't always equal reality.True friendship involves sacrifice.What kind of research did you have to do for the book?Having lived in East Texas for two years, I absorbed a lot of the geography and colloquialisms of the area. A lot of my research happened as I wrote. I also researched battered wives and police procedure (Thanks Officer Woodruff).With which character do you identify most and why?In high school, I was a lot like Hixon, living on the margins of life in some ways because I was so flat-out in love with Jesus. I wanted to share Him everywhere, and my speech was peppered with Jesusisms. But like Hixon, I also had another side to me, one I hid. Learning to be honest with myself and others about my own shortcomings—and, oh, they are aplenty—has made me a better Christ-follower in the long run. It's not about appearing holy. It's about being holy from the inside out. The only route to that kind of abundance is honest, excruciating disclosure with trusted friends and the God who sees it all.What do you hope to accomplish with this book?I liken this book to an Oprah book, but with hope. Yes, there is darkness and meanness abounding in this world, but God's light has a way of fully penetrating that darkness. I hope Daisy Chain cradles the reader through its deep, scary journey clear through to the end because redemption will shine brighter in the midst of darkness. That's my own personal testimony, so it can't help but leak out on the page.My hope is that folks will see the need to share their family secrets in order to be set free. (A cool place to share your family secrets anonymously is
http://blog.myfamilysecrets.org/
). I also want people to see that the Body of Christ is probably much different looking than they first thought. Some appear holy. Others, in distressing disguises, actually are.